This past weekend, seven friends and I ran the Ragnar Trail Relay at Flat Rock Ranch in Comfort, Texas. We trained, we planned, we packed and we ran.
Every person on each team of eight runs 3 legs: a 3 miler, a 5 miler and a 7.7 miler along rocky trails with intense inclines and declines. These runs are separated by the runs of your other teammates and happen relay-style, with one runner handing off the race number to the next.
There were 200 teams camped in the area, with a central location called "The Village" – which happened to be several tent vendors and food trucks set up near the race start/end point. All of this went down on a large ranch with trails usually used for mountain biking.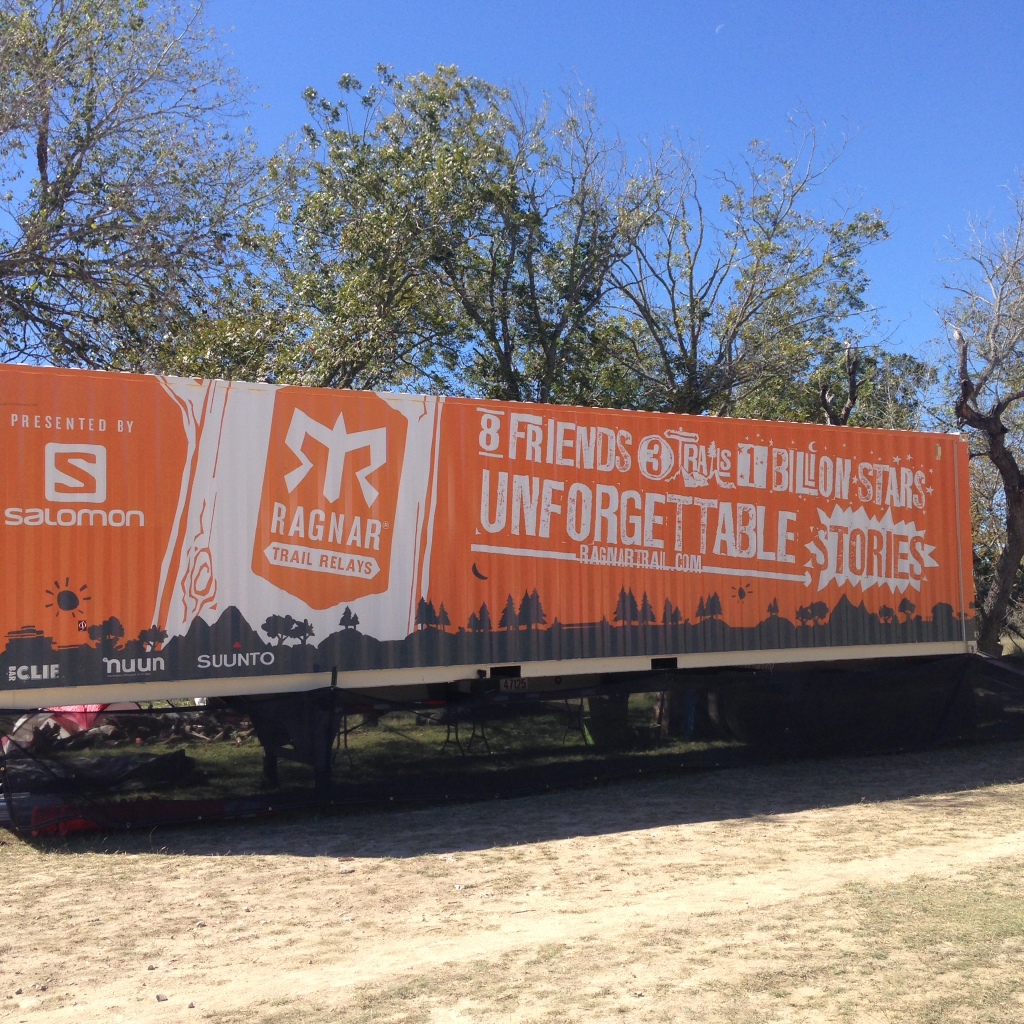 We all started out with strong legs and high spirits. Our team of eight was all female. As you send out one runner, the other seven ladies get to chat and hang out to wait for their leg to start. During these chats, we realized that collectively we were the mothers of 33 children. Yes, 33 kids! I know – that's a LOT of kids. Luckily most of these children were school-age and older, thus not draining our daily stores of energy in the way infants and toddlers do…but still, 33 kids require some serious love and energy. So as a diversion from said kids, we train to do crazy adrenaline-pumping things and occasionally get some adult-time.
What I didn't realize was that this race would be quite as difficult as it turned out to be. I can run long distances with the proper training, and I'd done a Ragnar relay before. But the Wasatch Back Ragnar I had done previously was run mostly on roads and easy trails – nothing like this one. So when we arrived and I realized how narrow and rocky these trails were, I started to get nervous.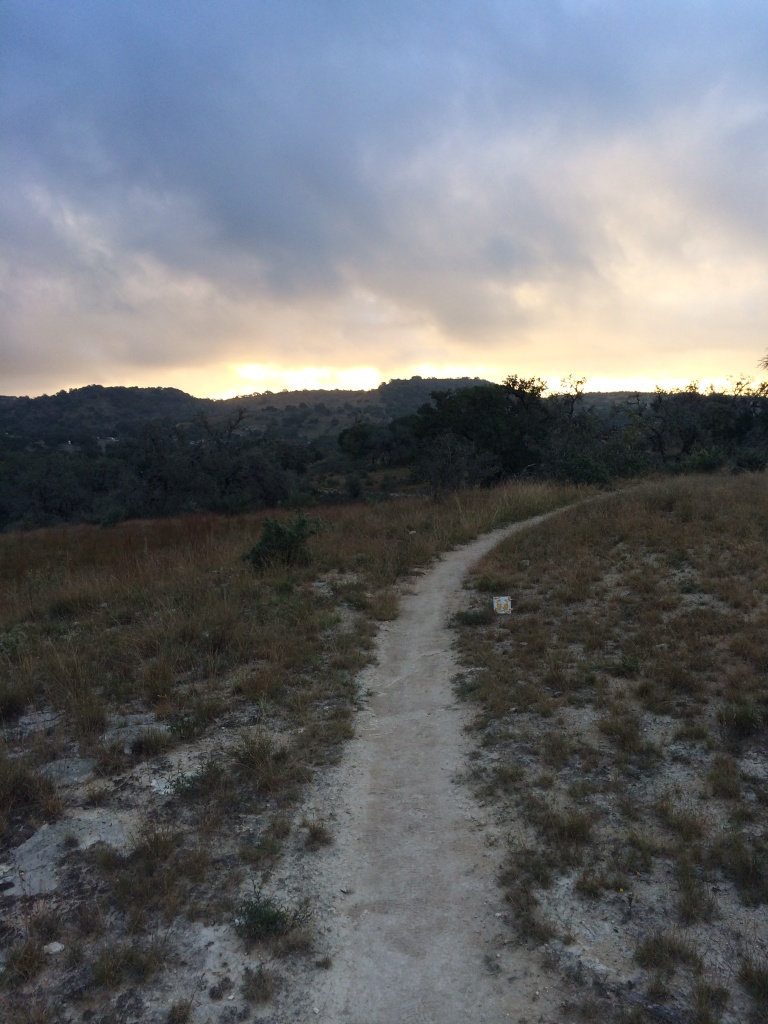 It dawned on me that I had not trained correctly for this type of trail. I didn't even own trail running shoes. I thought the trails would be wide and flat-ish and have inclines and declines that were challenging but do-able. I was mistaken. These trails were sometimes no wider that one foot and full of all sizes of rocks waiting to turn your ankle or drive you to the ground. Even more dangerous was the fact we were going to run this race over a 24 hour timespan requiring everyone to run at least one leg in the dark…with headlamps.
Ummm, yeah.
Luckily for me, Salomon was there plying their trail running shoes and gear. They would even let you test out a trial pair over one of the legs of your run. I ended up buying a pair that I really like – and that probably saved my ankles.
See, I didn't know that trail running shoes have more structure and support under the ball of your foot to protect you from sharp rocks or that trying to run this race in road shoes would be really dumb. I was ignorant about the difficulty of this course and the equipment I would need because I hadn't done my homework. I had simply been too busy and distracted by other things on my to-do list.
I chose to be the seventh runner which required me to run my legs in this order: 3 miles, 7.7 miles, and 5 miles, with 6-ish hours in between as my friends ran their legs. We got to the campsite and set-up around 10 am on Friday. Our first runner took off at noon. I ended up not running until 6 pm that night. The 3 miler was hard but not impossible as the sun went down and things starting cooling off. Where things got difficult was at 2 am when I started my long leg with a headlamp on and pure determination.
In spite of my awesome shoes, after turning my left ankle twice before I even started my second mile, I realized my legs were weak and what I was doing was harder than I had ever expected. Then I hit a switch-back and the unthinkable happened: I fell face-first downhill along a rocky, dark trail in the middle of nowhere with not another head-lamped runner in sight. I never even saw what had caused my fall. It came completely without warning. One second I was upright, the next I was on my torso sliding down a rocky trail.
I was instantly crushed. I knew I had a long way to go and had no idea how bad the damage was. Luckily the hand-held hydration pack I had on took the brunt of the fall and saved my hands. But my knees were not as lucky. Underneath my running capris, my knees were cut and bleeding in several places – and hurting like crazy. I wasn't sure exactly where I was and if I should turn back or go forward. Mentally, I felt there was no way out but to finish. I limped on with tears running down my face.
People were kind as they passed and asked if I was okay. I said, "Yes" only because I knew there was nothing I could do but sit there in the dark and wait for someone to come get me if I said "No," or limp onwards. I chose to limp. And if it was at all possible, my pride hurt more than my knees. After a while I could run a stretch or two and tried to hurry it along, but it took me until 4 am to get back to the exchange point where I felt like I'd let my team and the next runner down in a big way.
That 7.7 miles was the hardest mental marathon I have ever endured. Every negative thought possible entered my mind. I was mad at myself, mad at other runners passing me, I was even mad at how some of them smelled good as they ran by. I mean, how can you smell good after running in the dirt all day?!? (Turns out it was sunscreen from one of the vendors – but still!) Every thought said: you can't finish, your body always lets you down, how did you ever think you can finish anything?
But I did finish. I limped through that exchange and sucked it up. I tried to crush those negative voices and my hurt pride. My teammates were awesome and supportive. One of them stepped up and ran my final leg for me. Kindness abounded and we all crossed the finish line together at the very end.
It was not all blood and pain, though. We did have some excellent laughs and made some great memories.
All fun aside, two days later I am still nursing my sore knees and ankles, not to mention my pride.
The moral of this story: Don't let anything on your to-do list distract you from doing your research and being prepared.
Again: Be prepared. BE Prepared. BE PREPARED.
And don't bring a knife to a gun fight.
The End.